Keeping Your Family Safe on the Road in Bayside
Volvo continues to set the standard when it comes to keeping your family safe and comfortable. With a long list of safety features, Volvo Cars of Queens in Bayside will keep you and your family safe while providing you the luxury you have come to expect from a Volvo. Whether you are expecting a new baby, shuttling the kids to practice or watching them drive off to the college, Volvo has gone above and beyond to keep them safe. It is no wonder that the Volvo XC60 was a winner of the 2019 Edmunds Best Family Cars award, and the XC90 is turning heads wherever it goes.
Our cars empower the driver with such features as Pilot Assist. A technology that will help keep the driver in control at all times, especially in tedious driving situations and encouraging safe speed and distance. To help further increase safe driving, Adaptive Cruise Control keeps a preset gap up in any driving situation. Coupled with the Distance Alert, the driver will be able to always keep a safe distance from the car in front of behind. In addition, our improved safety belts and BLIS system are continuing to keep our drivers safe. When you visit our showroom in Bayside and test-drive a Volvo and see the safety features in action and drive with confidence that you know you're going the extra mile to keep your family safe on the road.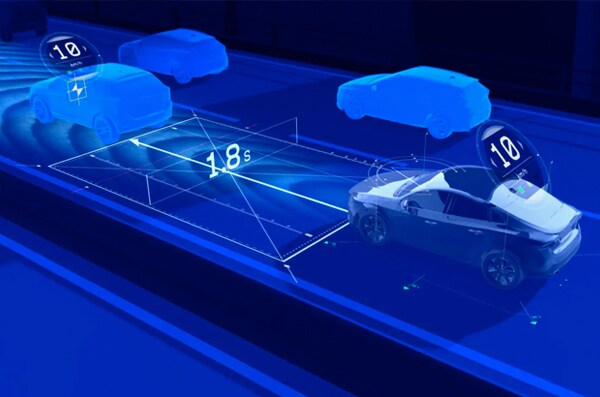 Pilot Assist
Pilot Assist is designed to provide collaborative, intelligent and directable assistance while the driver maintains control at all times. Pilot Assist reduces driver strain in tedious driving situations and increases safety margins. The system delivers enhanced speed and distance keeping and a more consistent and precise position in lane. When activated, the system also has a positive effect if a conflict is about to happen - the performance in emergency steering and braking is improved.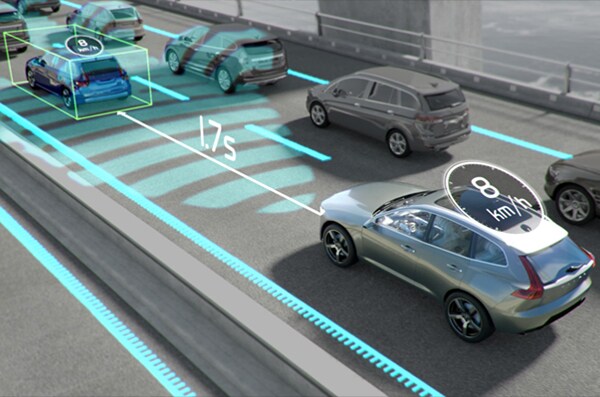 Adaptive Cruise Control
Helping you to maintain your preset gap to vehicles in front at all speeds up to 200 km/h, Adaptive Cruise Control is a supportive partner for a more relaxed driving experience, reducing driver strain in tedious driving situations. It also offers more precise safety margins to the vehicle ahead.
Just select the desired speed and time gap to the vehicle in front. When the radar sensor detects a slower vehicle in front, the speed automatically adapts to that vehicle. And when the road is clear, the car resumes the selected speed. Whenever you want, you can also select conventional cruise control.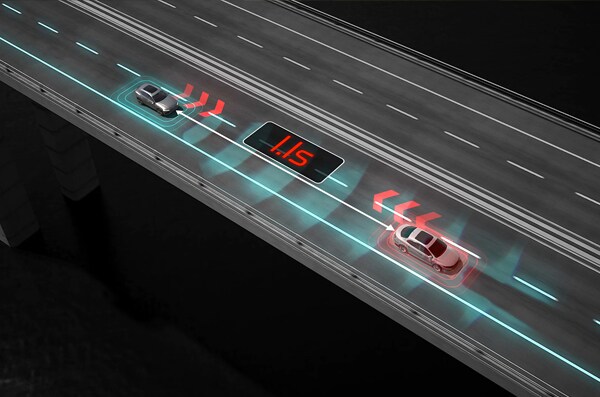 Distance Alert
If Adaptive Cruise Control is disengaged and a vehicle in front comes too close, the distance alert function activates a warning to help you keep a safe distance. This function is available in cars that are equipped with a Head-Up Display (HUD).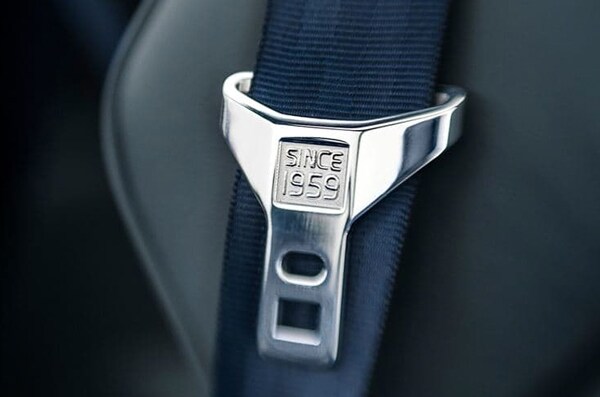 Safety Belts
Without a doubt, the most critical safety feature in the car the three-point safety belt, and knowing about Volvo's commitment to safety, it is no surprise that the first auto manufacturer to put the belt into production was Volvo Cars in 1959.
Sixty years later Volvo continues to make improvements to the safety belt, and today they offer electrical reversible retractors to help position the front seat occupants in advance of a potential crash. The optional function works by exerting a pulling force over the shoulder of the occupant and is further enhanced if required with the use of a pyrotechnic belt tensioner. If the driver is able to avoid a crash, the belt tension is released automatically.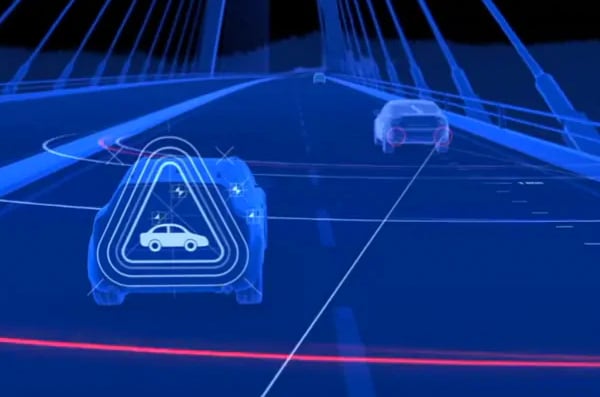 Blind Spot Information System (BLIS)
BLIS (Blind Spot Information) with steer assist allows you to change lanes with confidence on the highway by alerting you to when other drivers are around you. Using radar sensors, you are alerted to a driver approaching from behind or on either side of you. When the BLIS detects a driver approaching the left or right side mirror will illuminate to warn you of their presence and stay lit until your blind spot is clear and safe to change lanes. This alert system accompanied with steer assist will keep you safe at a critical moment.
---
A History of Innovation: Our Reputation for Safety
The safety vision that nobody will be killed or seriously injured in a new Volvo car is the result of a dedication to saving lives that has been passed on from generation to generation of Volvo people since the company was founded in 1927.
Focus on safety from the start
Ninety years down the road, recent independent safety ratings shows that the Swedish premium carmaker is moving closer to realizing its bold vision.

Three recent Volvo models, the S90, V90 and XC90, are the best-ever performing cars in the stringent Euro NCAP safety rating, which is an important guide for European consumers.

The journey towards this world-leading position within automotive safety started already when the first Volvo car rolled off the assembly line in Gothenburg, Sweden, on April
14th 1927.
Gustaf Larson, who founded Volvo together with Assar Gabrielsson, wrote in one of the first sales handbooks:
"Cars are driven by people. The guiding principle behind everything we make at Volvo therefore is, and must remain, safety."
In the early days, most safety features focused on protecting the car's occupants in an accident. The Volvo PV444, which was introduced in 1944, is a good example. The model, which would later pave the way for Volvo's success in the United States, surrounded the car occupants with a robust safety cage and featured a laminated windscreen that didn't shatter in a collision.
There is a bit of Volvo in every car
In 1958 Nils Bohlin became Volvo Cars' first safety engineer. A year later he designed the three-point safety belt as it looks today. No feature in automotive history has saved more lives.

Volvo Cars' ingenious solution was simple as well as efficient: A combined diagonal and lap belt, anchored at a low attachment point on the side of the seat, provided a V-shaped geometry that ensures that the belt stays in place even in a crash.

In 1959 Volvo Cars became the first automaker in the world to fit three-point safety belt as standard in the Amazon and PV544. A few years later, the Swedish company waived its patent rights to enable all automakers to use the safety belt.

This means that there is a little bit of Volvo in your car, even if you drive one from a different brand. And while you were reading these lines, the three-point safety belt saved another life somewhere in the world.
Nils Bohlin: the man behind the three-point safety belt.
Pioneers in saving young lives
In the early days, most safety features focused on protecting the car's occupants in an accident. The Volvo PV444, which was introduced in 1944, is a good example. The model, which would later pave the way for Volvo's success in the United States, surrounded the car occupants with a robust safety cage and featured a laminated windscreen that didn't shatter in a collision.
Helping you avoid accidents
Over the years, there has been a growing focus on collision-avoiding features. Most recent Volvo models are equipped with sophisticated technologies that detect other cars, cyclists, pedestrians and large animals. If a collision is imminent, and the driver doesn't react in time, the car will brake automatically and/or assist the driver to steer away from the danger.

Even if modern Volvo cars are safer than the company's founders could have imagined 90 years ago, the starting point for every new innovation remains the same: real life traffic situations.

"All our cars are created around people and the challenges they encounter in real-life traffic. We study data. We crunch numbers. We innovate. The result is some of the safest cars ever made," says Professor Lotta Jakobsson, Senior Technical Specialist Safety at Volvo Cars Safety Centre.
Safety systems to protect all road users.